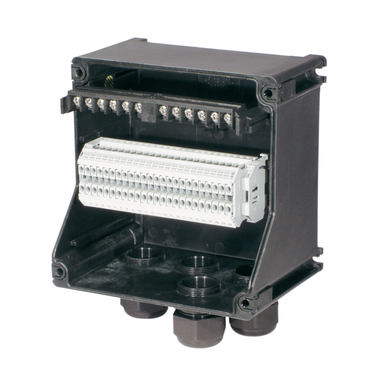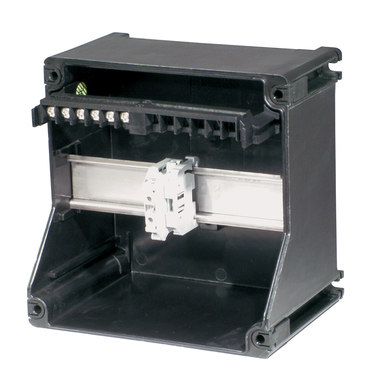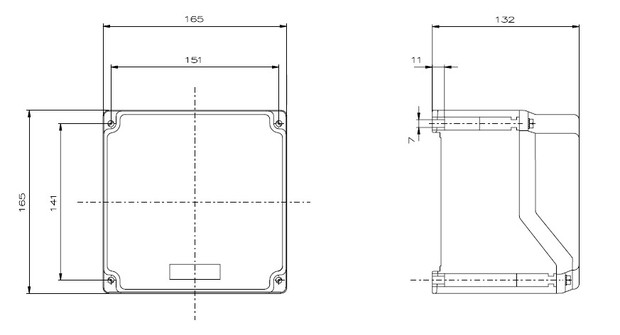 GHG721 0 Terminal strip enclosure Exe / Exi
GHG721 0 is a compact and easy to install and durable terminal strip enclosure.
Dimensions: 165(w) x 165(h) x 132(d)
Connections are very easy to make in the enclosure thanks to the design of the cover and positioning of the terminal strip. The cover also opens from the sides, in which case the connectors are fully exposed for connection.
In addition to the catalogue versions, an essential part of our product/delivery programme is custom applications.
*) Size and number of terminal strips according to loading table based on type approval.

The lower side of the enclosure is designed to be as wide as possible for leadthroughs
The enclosure is strong and durable GRP (glass-reinforced polyester)
Cover screws and terminal strip: 316L acidproof steel
Rail: Snap-On (=easy wire connection)
Terminal strips: Screw or spring connectors, Max qty, e.g. 26 pcs. 2.5 mm2 *)
Use temperature: -55° ? +55°C
Enclosure rating: IP66
International approvals, ATEX, IECEx (by request TR-CU)
Certified and installation-ready terminal strip enclosures are supplied ATEX-certified with terminal strips and cable glands or closure plugs.
GHG721 0 is excellently suited as a compact connection box for diverse industrial sites.
Process/property electrical systems and automation.
Wood processing industry, chemical industry, petrochemical/offshore, shipbuilding etc.
Equipment manufacturers
Excellent choice for explosive atmosphere sites, gas Ex(G) and/or dust Ex(D). Zones 1, 2 or 21 and 22.
All articles
+
Show all datafields
-
Hide datafield
| Choose amount | | | |
| --- | --- | --- | --- |
| | SFCE173301 | GHG7210/1M32/3M32(4xØ)/1-24/PE 2,5mm² 2G Exe | Terminal boxes |
| Choose amount | | | |
| --- | --- | --- | --- |
| | SFCE173301 | GHG7210/1M32/3M32(4xØ)/1-24/PE 2,5mm² 2G Exe | Terminal boxes |
GHG7210/1M32/3M32(4xØ)/1-24/PE 2,5mm² 2G Exe
Type of product
Terminal boxes