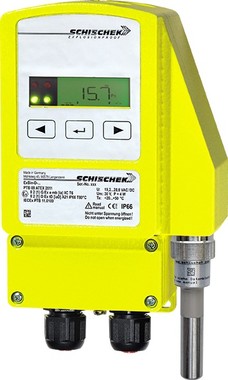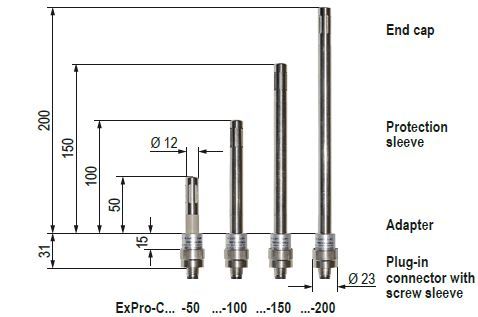 ExCos-D temperature and/or humidity sender 2G2D
ExCos-D temperature/humidity sender unit for explosive atmospheres (ATEX) to be used with ExPro-C... sensors.
ExII 2G/2D
Suitable for zone 1, 2 or 21, 22 measurements.
Room or duct measurements.
Digital display.
Parameterisation from the sender buttons in Ex atmospheres.
Output: 0...10V / (0)4...20mA
Supply: 24 VAC/DC

Select the suitable sensor element ExPro-C...-x based on your measurement.
Sensor length x=50mm,100mm,150mm or 200mm
ExPro-CT-... (temperature measurement)
ExPro-CF-... (humidity measurement)
ExPro-CTF-... (temperature and humidity measurement)

All articles
+
Show all datafields
-
Hide datafield
| Choose amount | | | |
| --- | --- | --- | --- |
| | SH082008-00 | ExCos-D LÄMPÖTILA-/KOSTEUSLÄHETIN ILMAN ANTURIA,24V~/=,0-10V/0/4-20mA | Transmitters |
| | SH082012-50 | ExPro-CT50 LÄMPÖTILA-ANTURI L=50mm | Transmitters |
| | SH082012-200 | ExPro-CT200 LÄMPÖTILA-ANTURI L=200mm | Transmitters |
| | SH082015-50 | ExPro-CF50 KOSTEUSANTURIVL=50mm ExCos-D/RedCos-D | Transmitters |
| | SH082018-50 | ExPro-CTF50 LÄMPÖTILA-/KOSTEUSANTURI L=50mm Cos-D | Transmitters |
| | SH081901 | ExPro MFK ASENNUSLAIPPA ANTURILLE, KANAVA-ASENNUKSEEN (..Cos-D) | Transmitters |
| | SH081902 | ExPro MKR MOUNTING BRACKET, FOR ROUND DUCTS UP TO 600 mm d | Transmitters |
| | SH081911 | VL3 ExPro-ANTURIN JATKOKAAPELI 3m, ExCos-D/RedCos-D | Transmitters |
| Choose amount | | | |
| --- | --- | --- | --- |
| | SH082008-00 | ExCos-D LÄMPÖTILA-/KOSTEUSLÄHETIN ILMAN ANTURIA,24V~/=,0-10V/0/4-20mA | Transmitters |
| | SH082012-50 | ExPro-CT50 LÄMPÖTILA-ANTURI L=50mm | Transmitters |
| | SH082012-200 | ExPro-CT200 LÄMPÖTILA-ANTURI L=200mm | Transmitters |
| | SH082015-50 | ExPro-CF50 KOSTEUSANTURIVL=50mm ExCos-D/RedCos-D | Transmitters |
| | SH082018-50 | ExPro-CTF50 LÄMPÖTILA-/KOSTEUSANTURI L=50mm Cos-D | Transmitters |
| | SH081901 | ExPro MFK ASENNUSLAIPPA ANTURILLE, KANAVA-ASENNUKSEEN (..Cos-D) | Transmitters |
| | SH081902 | ExPro MKR MOUNTING BRACKET, FOR ROUND DUCTS UP TO 600 mm d | Transmitters |
| | SH081911 | VL3 ExPro-ANTURIN JATKOKAAPELI 3m, ExCos-D/RedCos-D | Transmitters |
ExCos-D LÄMPÖTILA-/KOSTEUSLÄHETIN ILMAN ANTURIA,24V~/=,0-10V/0/4-20mA
Type of product
Transmitters
ExPro-CT50 LÄMPÖTILA-ANTURI L=50mm
Type of product
Transmitters
ExPro-CT200 LÄMPÖTILA-ANTURI L=200mm
Type of product
Transmitters
ExPro-CF50 KOSTEUSANTURIVL=50mm ExCos-D/RedCos-D
Type of product
Transmitters
ExPro-CTF50 LÄMPÖTILA-/KOSTEUSANTURI L=50mm Cos-D
Type of product
Transmitters
ExPro MFK ASENNUSLAIPPA ANTURILLE, KANAVA-ASENNUKSEEN (..Cos-D)
Type of product
Transmitters
ExPro MKR MOUNTING BRACKET, FOR ROUND DUCTS UP TO 600 mm d
Type of product
Transmitters
VL3 ExPro-ANTURIN JATKOKAAPELI 3m, ExCos-D/RedCos-D
Type of product
Transmitters