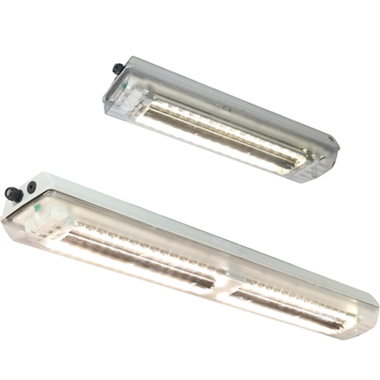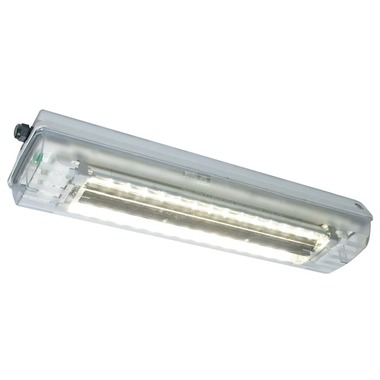 eLLK92 LED Luminaire ATEX
eLLK92 LED is a modern and reliable modular LED luminaire for explosive atmospheres, gas Ex(G) or dust Ex (D).
Zones 1 and 2; gas Ex(G)
Zones 21 and 22; dust Ex(D)

Excellent choice for replacing 2x18W or 2x36W fluorescent lights
Thanks to effective and ingenious light distribution, the light feels pleasant with minimum glare.
eLLK92 LED 400A
LED 400A 2700 lm 5700K
29W
Dimensions (WxDxH) 760 x 188 x 130 mm
Weight 7.2 kg
eLLK 92 LED 800A
LED 800A 5350 lm 5700K
57W
Dimensions (WxDxH) 1360 x 188 x 130 mm
Weight 10.7 kg
On request 4000K.
All articles
+
Show all datafields
-
Hide datafield
Choose amount

CE190401
E 43 077 25
eLLK92 LED 400A 2/6-2M LED VALAISIN 29W ATEX 2700lm 5700K 4xM20 METAL

CE190411
E 43 077 26
eLLK92 LED 800A 2/6-2M LED VALAISIN 57W ATEX 5350lm 5700K 4xM20 METAL

CE190421
E 43 077 28
eLLM92 LED 400A 1/3-1K LED VALAISIN 29W ATEX 2700lm 5700K 1x M25

CE190431
E 43 077 29
eLLM92 LED 800A 1/3-1K LED VALAISIN 57W ATEX 5350lm 5700K 1x M25

CE182901
eLLK92 LED 400A 2/6-2 LED VALAISIN 29W ATEX 2700lm 5700K LÄPIJ 2M25 2M25 PLUG

CE182911
eLLK92 LED 800A 2/6-2 LED VALAISIN 57W ATEX 5350lm 5700K LÄPIJ 2M25 2M25 PLUG
Choose amount

CE190401
E 43 077 25
eLLK92 LED 400A 2/6-2M LED VALAISIN 29W ATEX 2700lm 5700K 4xM20 METAL

CE190411
E 43 077 26
eLLK92 LED 800A 2/6-2M LED VALAISIN 57W ATEX 5350lm 5700K 4xM20 METAL

CE190421
E 43 077 28
eLLM92 LED 400A 1/3-1K LED VALAISIN 29W ATEX 2700lm 5700K 1x M25

CE190431
E 43 077 29
eLLM92 LED 800A 1/3-1K LED VALAISIN 57W ATEX 5350lm 5700K 1x M25

CE182901
eLLK92 LED 400A 2/6-2 LED VALAISIN 29W ATEX 2700lm 5700K LÄPIJ 2M25 2M25 PLUG

CE182911
eLLK92 LED 800A 2/6-2 LED VALAISIN 57W ATEX 5350lm 5700K LÄPIJ 2M25 2M25 PLUG
eLLK92 LED 400A 2/6-2M LED VALAISIN 29W ATEX 2700lm 5700K 4xM20 METAL
Art.no
CE190401
E 43 077 25
eLLK92 LED 800A 2/6-2M LED VALAISIN 57W ATEX 5350lm 5700K 4xM20 METAL
Art.no
CE190411
E 43 077 26
eLLM92 LED 400A 1/3-1K LED VALAISIN 29W ATEX 2700lm 5700K 1x M25
Art.no
CE190421
E 43 077 28
eLLM92 LED 800A 1/3-1K LED VALAISIN 57W ATEX 5350lm 5700K 1x M25
Art.no
CE190431
E 43 077 29
eLLK92 LED 400A 2/6-2 LED VALAISIN 29W ATEX 2700lm 5700K LÄPIJ 2M25 2M25 PLUG
eLLK92 LED 800A 2/6-2 LED VALAISIN 57W ATEX 5350lm 5700K LÄPIJ 2M25 2M25 PLUG